Learn To Quilt Class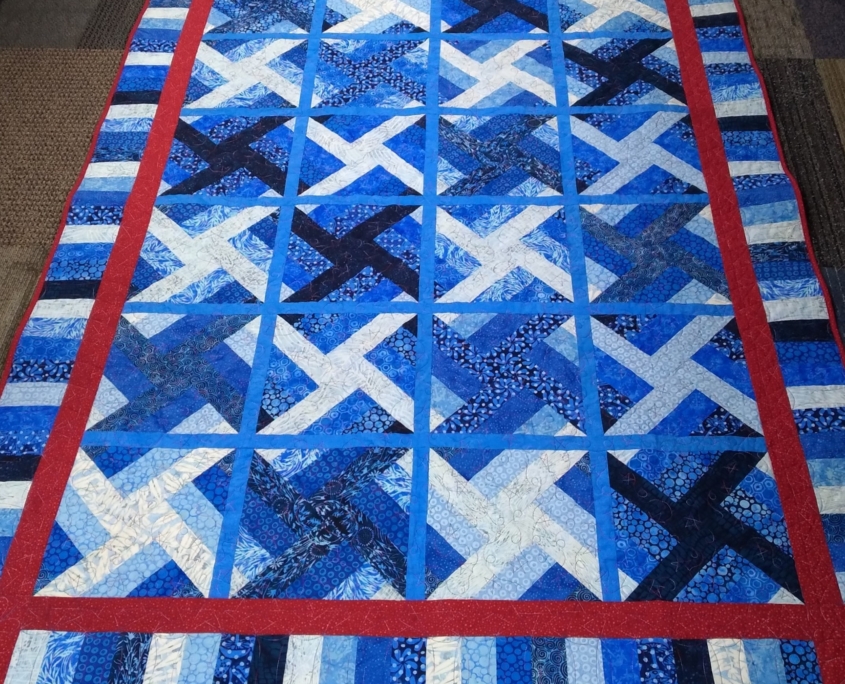 Calling all beginners!  We are hosting a "sit and sew" for anyone interested in learning how to quilt!  This will strictly be in a "learn as you go" setting.
Now is your chance to come and learn how to quilt.  We will teach you the basics of quilting such as how to read a pattern, sew using a precise ¼" seam, etc.  Get expert tips and guidance along the way.
The goal is for you to learn the basics and complete a simple block or two.  Once we have enough blocks they will be sewn into a lap sized quilt for a veteran!  You will have the opportunity to sign your name on the finished quilt!
What do you need for this class?  Absolutely nothing!  We cut – you sew!  We will provide you with a sewing machine (or if you have your own, please feel free to bring it), and all of the necessary tools to make it an enjoyable learning experience!  All you need to do is arrive with a positive attitude and a willingness to learn!  The purpose is for you to learn the basics and complete a simple block or two.
We would be honored if you would join us on Saturday, May 15th from 1 to 4 p.m. (this is also "Armed Forces Day")  Armed Forces Day is a joint celebration of all six branches of the U.S. military: Air Force, Army, Coast Guard, Marine Corps, Navy, and the newly created Space Force. The day honors all people currently serving in the U.S. armed forces
Limit 8 people so sign up early.  Class is free and available to anyone who is interested to learn how to quilt!  If we have more than 8 people interested, we will create a second date!